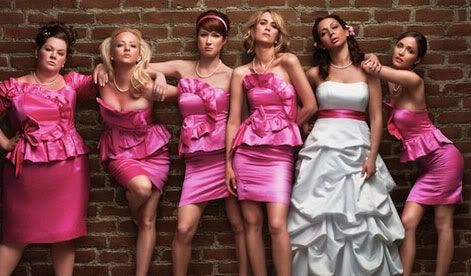 By: Heather Seebach

The raucous, vulgar comedies of late (Superbad, The Hangover, etc.) have been a male-dominated subgenre – until now. Paul Feig's Bridesmaids transcends the common chick flick and proves that women can play down and dirty too when it comes to comedy. Rounding up some of the funniest ladies out there right now, the film provides side-splitting laughs. Additionally, it is a solid, well-paced film with touching moments – think Knocked Up, not Eat Pray Love – and a great story everyone can relate to.

SNL's Kristen Wiig plays Annie, a single 30-something woman with a crappy job, creepy roommates, and a fuck-buddy who walks all over her. The best thing in her life is her BFF, Lillian (Maya Rudolph), who just got engaged to be married. Now Annie has the responsibility of being the maid of honor and planning the wedding - a task she is completely unprepared for. Making matters worse, bridesmaid Helen (Rose Byrne), a beautiful, pampered rich girl, is trying take over as Lillian's #1 friend. Annie battles the inevitability of Murphy's Law as she goes to any length necessary to give her best friend the perfect wedding.

In the lead, Wiig is funnier than ever, carrying the film with comedic ease. This woman really needs more starring roles (here's hoping Bridesmaids fixes that). As Annie, she is the perfect everywoman. She can be sexy and feminine, but she is also never afraid to look stupid or ugly for a laugh. Rose Byrne plays her opposite – an uptight perfect princess. The Aussie actress – recently seen in Insidious – is not exactly known for her comedic parts (except Get Him to the Greek) but her squabbles with Annie for Lillian's affections are pretty damn funny.

The rest of the bridal party is comprised of Ellie Kemper (The Office), Melissa McCarthy (Mike and Molly) and Wendi McLendon-Covey (Reno 911!). All three have proven their comedic chops on their respective television shows, and together they make a hilarious, dysfunctional bunch of bridesmaids. Kemper is the sweet and innocent newlywed; McCarthy the tactless, overweight butch; and McLendon-Covey the bitter, drunk housewife. Kemper – who has quickly become my new favorite character on The Office – is sadly underused here. Meanwhile, McCarthy provides the most laughs with her gross-out humor. She does for this movie what Zach Galifianakis did for The Hangover and Due Date.

Bridesmaids may be Paul Feig's biggest directorial effort to date, but comedy fans should recognize the name. Not only did Feig create Freaks and Geeks, but he has directed some of the best episodes of The Office, Parks and Recreation, and Arrested Development. Like Apatow or McKay, Feig's name has become synonymous with quality comedy, and this film proves he can translate that to the big screen, as well. It helps that Kristen Wiig and fellow Groundlings alum Annie Mumolo wrote the screenplay. These three very funny people have created a comedy that is not just some 80-minute gross-out quickie, but a well-paced, two-hour film with a rounded story, great characters, and a steady stream of hilarity.

The film may be by women, but it is definitely not just for women. Even though men don't know the frustrations of being a single, stressed bridesmaid, the jokes are not gender-specific. At the screening of this movie, the loudest laughter in the audience was coming from men. But if you really need some testosterone on-screen, you get hilarious performances from Mad Men's Jon Hamm as a womanizing sleaze, and The IT Crowd's Chris O'Dowd, who proves not all men are dogs as a sweet and charming Irish cop. His character also proves that women are just as capable of hurting men, and so a lot of guys will relate to his character.

Bridesmaids is a sweet, hilarious comedy that stands toe-to-toe with modern comedic classics like The 40-Year-Old Virgin and Role Models, which also effectively combined a heartwarming story with pee-your-pants laughs. I hope this film sets a trend of female-oriented comedies that replace Kate Hudson and Julia Roberts vehicles in favor of genuinely funny women being just as ballsy and foul-mouthed as the boys.


out of 5
​